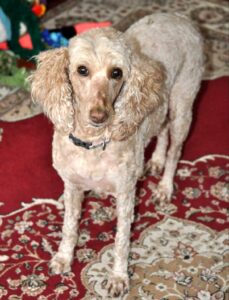 "CHICA" is a 6-year-old (May 18th 2016), apricot, smaller sized (Moyen) Standard Poodle.
Chica only had one litter then developed liver problems.  She was then spayed and became a house companion for the breeder.
While Chica looks healthy, is active and has no visible health issues, we had our Vet do various lab tests, x-rays and then an ultrasound.  It was determined that Chica's liver was rapidly deteriorating, and were told she didn't have much longer to live.  There is nothing more that can be done….  Yet months later, she's still alive and doing just fine!
YES!  The liver is an organ that can heal with proper medication and diet.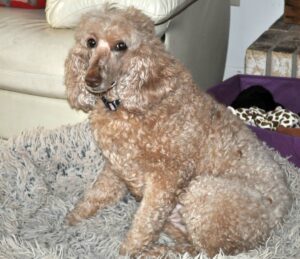 The breeder (whose health is failing) had been informed and we both decided that Chica would remain with us.
Chica is happy and comfortable here while we provide her with lots of love, attention, and a special prescription dog food along with a medication called "Denamarin".  This consists of:  425 mg of S-Adenosylmethionine and 120 mg of Silybin-phosphatidylcholine.  HOWEVER THIS IS SAME ingredients found in "Sam-E" and "Milk Thistle" (and a lot cheaper).
When we can see that Chica's health is failing or she is in pain, we will hold her while she goes into the arms of our Great and Loving God.  And yes… tears will fall.
* * * * * * * * * * * * * * * 
By AKC Standards of Perfection, there are ONLY 3 sizes for Poodles:
"Standard", "Miniature" and "Toy".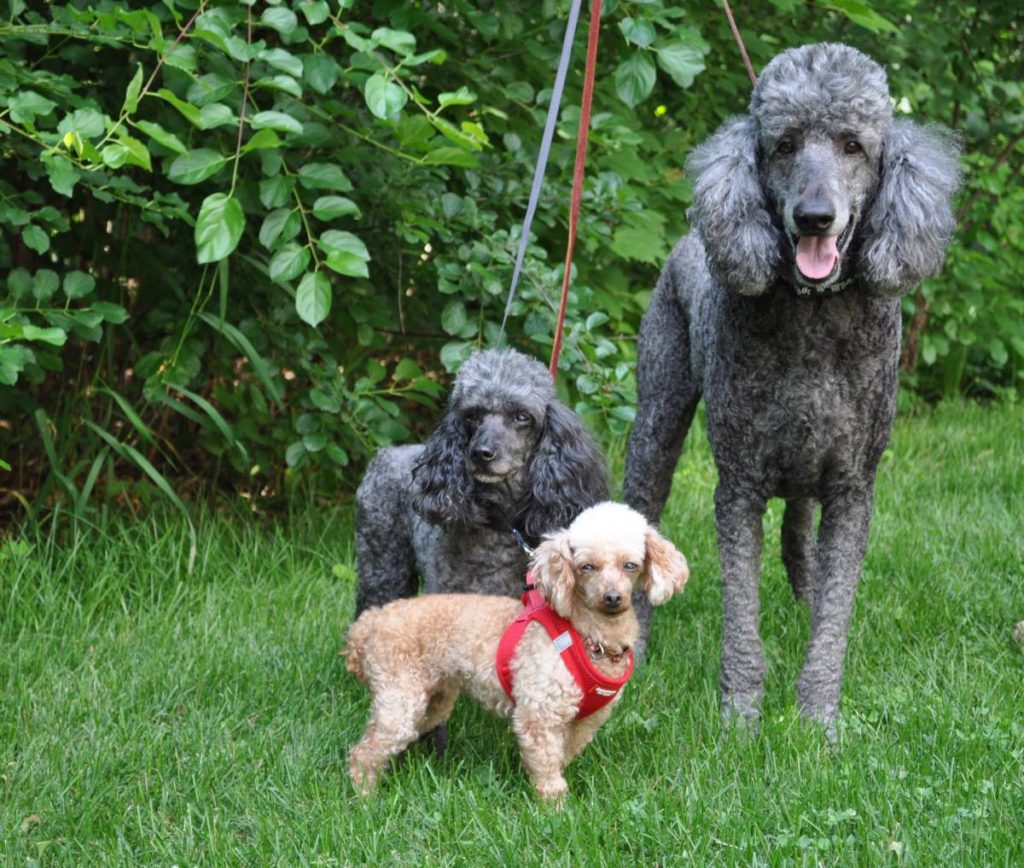 As pictured here, the "STANDARD POODLE", Percy is above 15 inches tall.  This measurement is taken from the floor (ground) to the top of his shoulders (withers).
The "MINIATURE POODLE" Niko is between 10 inches and 15 inches tall and the "TOY POODLE", Sandy is under 10 inches tall.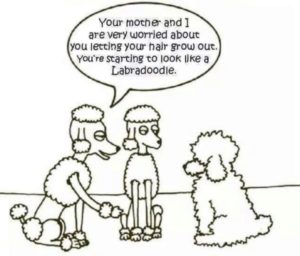 Sadly, since the introduction of "Doodles", the Standard Poodles are becoming harder and harder to find.
Why Doodle when you can Poodle?
---
---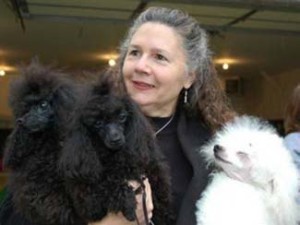 Our Mission Statement has always stated:   PICKET FENCE POODLE RESCUE AND RE-HOME will accept an adoptable Poodle who is either abandoned in a shelter, or purchased/rescued by any concerned person, or living with an owner who can no longer care for the Poodle.
I am truly blessed and thankful for the ability to financially help Poodles through your donations.  And then find them a loving "forever more" family to enjoy before they fly into our Great God's loving arms.
Thank YOU for your donations and trust in me.  We can and do make a difference in the life of a Poodle.  As the story goes….
Once upon a time, there was an old man who used to go to the ocean to do his writing. He had a habit of walking on the beach every morning before he began his work. Early one morning, he was walking along the shore after a big storm had passed and found the vast beach littered with starfish as far as the eye could see, stretching in both directions. 
Off in the distance, the old man noticed a small boy approaching.  As the boy walked, he paused every so often and as he grew closer, the man could see that he was occasionally bending down to pick up an object and throw it into the sea.  The boy came closer still and the man called out, "Good morning!  May I ask what it is that you are doing?"
The young boy paused, looked up, and replied "Throwing starfish into the ocean. The tide has washed them up onto the beach and they can't return to the sea by themselves," the youth replied. "When the sun gets high, they will die, unless I throw them back into the water."
The old man replied, "But there must be tens of thousands of starfish on this beach. I'm afraid you won't really be able to make much of a difference."
The boy bent down, picked up yet another starfish and threw it as far as he could into the ocean. Then he turned, smiled and said, "It made a difference to that one!"
Adapted from the book: The Star Thrower, by Loren Eiseley (1907 – 1977)
---
---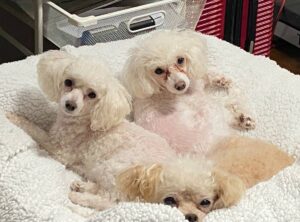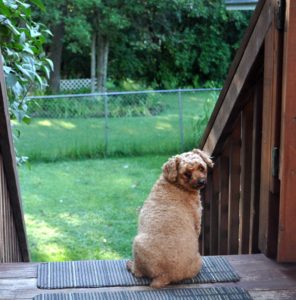 Please keep in mind that the TRUE HEROES of this world are those who are willing to open their homes, lives and wallets to our Poodles.  While I greatly enjoy and truly love what I do, I am only a small part in the lives of our Poodles before they go to their "Forever More" families.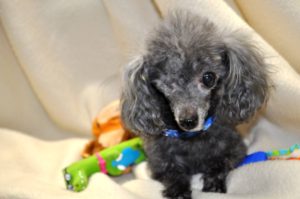 Also, a big THANK YOU to those families who have been most willing to adopt special needs or senior Poodles.  These Poodles have done nothing wrong, but provide unconditional love to the families who owned them.
They have come to us in need of a "forever more" home with a family willing to love and care for them until they go into the arms of our Great God!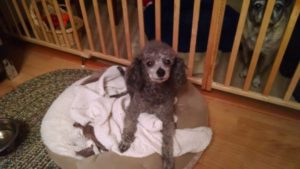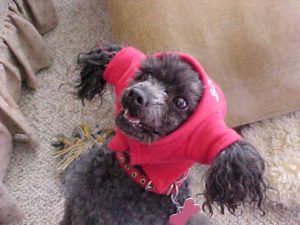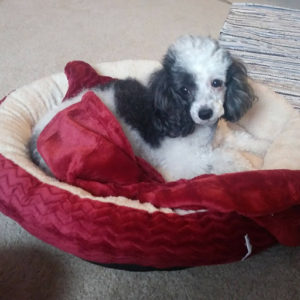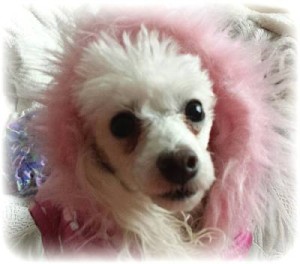 ---
You already knew this, but listen to this song which says it all…
GoD and DoG
---