-UPDATED JUNE 2023-
THE FOLLOWING TWO POODLES WILL BE AVAILABLE FOR ADOPTION as soon as all their Vet work is done….
"SAPPHIRE" is a silver, spayed, AKC Miniature Poodle who is 1 1/2 years old (born December 28. 2021).   She is about 13 pounds and measures 13″ tall from the floor to her withers.
Sapphire is a wonderful, loving and gentle girl who loves attention, will follow me everywhere, gives kisses. enjoys sitting with my husband and gets along just fine with all our Poodles.
MORE INFORMAITON WILL BE POSTED after all her Vet work is completed.
"FINNIGAN" is a deep red, male AKC Toy Poodle who just turned 1 year old (born April 28, 2022).  Finnigan is a tiny Toy Poodle who weighs 4.5 pounds and measures 10″ from the floor to his withers.
This little boy is active, loves attention, will follow me everywhere and enjoys being held.  Yet, he is feisty!  He is the first one to let me know if someone comes to the door, when the deer get to close to our fence or if Chica is not doing something right…. even though this little boy only has 3 legs that work.
MORE INFORMATION WILL BE POSTED after all his Vet work is completed.
Both of these Poodles come to us from a concerned breeder who deeply loved and cared for all of her dogs.  For health reasons, she needed to surrender her two beloved Poodles to us.  Thank you, Lisa.
PLEASE be patient.  Once their Vet work is completed, we will post more information and have these Poodles available for adoption.  ONLY THEN WILL WE BE BEGIN TO ACCEPT YOUR "ADOPTION APPLICATION".  Thank you for your patience.
---
---

OTHER POODLES AVAILABLE FOR ADOPTION CAN BE FOUND ON THESE WEB SITES:

We are a member of The Twin Cities Poodle Club
where you can find quality Poodles and Breeders: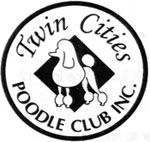 Picket Fence Poodle Rescue is also proud to be recognized by the
National Poodle Club of America: