-UPDATED MARCH 2023-
WE ARE NOT ACCEPTING ANY MORE "ADOPTION APPLICATIONS" FOR BINKY….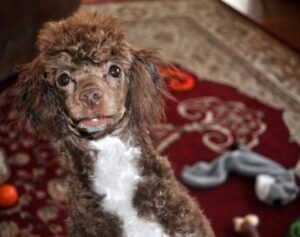 "BINKY" is a brown with white (parti) female Miniature Poodle who was born in the fall of 2022 (approximately September 30th).  She weighs a healthy 7.5 pounds and stands at 11" tall; measuring from the floor to her withers.
This cute puppy girl comes to us from a breeder in Southern Minnesota who we have worked with for many years.  Sadly, this breeder's health is failing, so we have now received her last 2 Poodles.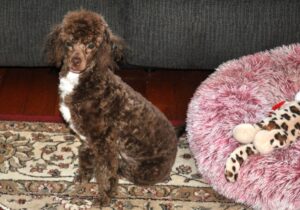 Binky (whose name is known as a baby pacifier that was first used around 1935) can be a soft, loving, cuddly Poodle who craves  attention from people and has many kisses with love to share while sitting in your lap.
However, she is also an active, normal puppy that  enjoys playing with her toys and chase any of our other Poodles who can tolerate her active and silly behavior.   She loves to run and will do the "POODLE ZOOMIES" while also trying to get the other Poodles to join her.
What a joy to watch this puppy!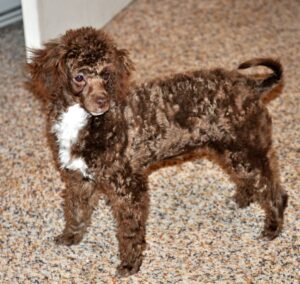 This is also an extremely smart girl!  She knows the word "NO!", comes when she hears the treat bag being rattled, knows when it's time to eat (food motivated), has kept her kennel clean and is doing very good with her housetraining.
Also, Binky loves certain toys that always get scattered around her play area.  One day, her "antler" chew toy was missing and she spent a lot of time searching under the furniture, chairs, rugs for that toy.  When we couldn't find it either, we bought her another one.  Then one day, she was trying to get under our sofa as she had FOUND her beloved toy there!
Note: She will also find treats that our vacuum cleaner didn't find!
Binky will be fine by herself but has been around other dogs all her life so another fun-loving dog would also work.  She is not afraid of our Standard Poodles (as pictured with Chica our "hospices" Poodle) and the older Poodles who tolerate her.  Some will hide from her as all she wants to do is have fun, fun, fun, like a normal Poodle puppy.
We do not have Binky's AKC papers.  She has been recently spayed, heartworm tested negative, wormed, all her shots (including rabies) are up to date, and she has been Home Again microchipped and registered.  Many of her puppy teeth did not fall out, so our Vet removed them too.  Ouch.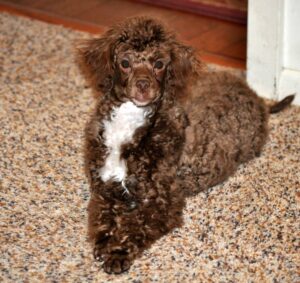 *A fenced yard or secure area will be required as this puppy loves to run and is not leash trained.
*You must be physically able to handle, teach (come, sit, stay) and socialize a smart, active puppy.
*As expected, our older Poodles will sometimes play with her. But, once they've had enough, they either hide from her or tell her to STOP IT!
*Preference will be given to a family with past Poodle and puppy experience.
PLEASE:
*NO cats (she will chase them), aggressive or assertive dogs.
*NO young children.
*Like most all rescue groups, we do NOT adopt our Poodles to homes more than 1 day's drive (round trip) from our location here in central Minnesota.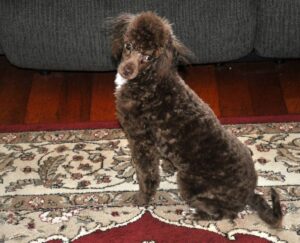 As with all our Poodles, Binky's adoption fee is one million, trillion, zillion dollars.
However, for the right family her adoption fee is $850.00 plus $63.00 for our 7.375% Minnesota state sales tax.  This fee helps pay for all of her recent Vet work.
Also included is a leash, a collar, a cute puppy harness, her kennel, a bag of quality puppy food, treats, various dog toys (including her favorite dog antlers) in a toy box, a new soft fuzzy dog bed and a blanket along with lots of good information to help your Poodle adoption move forward on the right paw!
* * * * * * * * * * * * *
NOTE FROM GAIL:   THE FOLLOWING TWO "BONDED" STANDARD POODLES ARE AVAILABLE FOR ADOPTION FROM A FAMILY IN APPLETON, WI.  SEVERAL LIFE CHANGES HAVE OCCURED, SO NOW A NEW LOVING HOME IS NEEDED FOR MARLA AND BRODIE.
Marla is a six-year-old, spayed, black and white parti Standard Poodle who weighs about 57 pounds.
She has been Vet checked heath and is a bloat survivor (gastric dilation-volvulus).  Since that happened, her stomach was stitched in place (gastropexy) to prevent further problems.
Her shots are up to date including her core vaccines – rabies, distemper, parvovirus and adenovirus and she is up to date on de-wormer and screening.  Marla has also been microchipped and registered.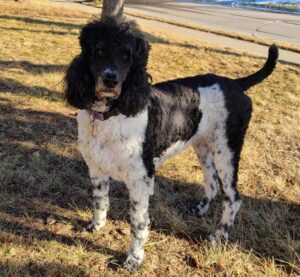 Marla is bright, social, athletic and friendly.  She loves to play frisbee daily with her fabric Chuck It or Para-flight frisbee.  Marla is good with cats and people of all ages.
She is leash trained and follows these commands with verbal or visual cues: Sit, Down, Stay, Come, Heal, Off, Leave it.  There are additional commands that Marla will follow.  She learns quickly and is treat motivated.
Marla enjoys stimulating activities like frisbee, working for treats or a good game of chase around an object like a storage shed.  When there is nothing on the agenda, she will often go off by herself to rest somewhere quiet.
Marla would enjoy a home where her active lifestyle will be embraced.  A securely fenced yard is required as she loves to run and play!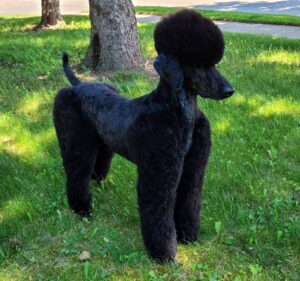 Brodie is a five-year-old, neutered, black Standard Poodle who weighs about 58 pounds.
He has been Vet checked health, his shots are up to date including his core vaccines – rabies, distemper, parvovirus, and adenovirus.  He is also up to date for his de-wormer and screening.  Brodie has been microchipped and registered.
Brodie is a sweet companion.  He likes to be near his people.  He will follow his favorite people everywhere and he likes to cuddle in their lap.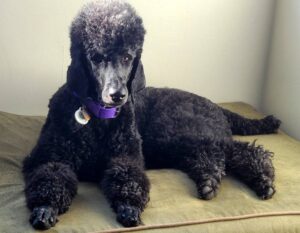 Brodie will gladly sleep in your bed with you if permitted to do so.  He likes to run after a ball to play fetch with you.
Brodie is good with cats and people of all ages.  He is leash trained and will follow these commands with verbal or visual cues: Sit, Down, Stay, Come, Heal, Off, Leave it.
Brodie would also enjoy a home where his desire to be close to those he loves will be welcomed and his drive to play fetch with a ball will be met.  A fenced yard is required so he can run and play.
Brodie and Marla have been together for five years.  They are a loving  "bonded pair" and it would be best that they are adopted together.  To the right family, their adoption fee will be $500.00 for the both of them.
PLEASE email Matt at matt.hirn@hotmail.com for more information about Brodie and Marla along with their "Adoption Application".
OR fill out the Picket Fence Poodle Rescue "Adoption Application" and Gail will forward it to me. 
---
---

OTHER POODLES AVAILABLE FOR ADOPTION CAN BE FOUND ON THESE WEB SITES:

We are a member of The Twin Cities Poodle Club
where you can find quality Poodles and Breeders: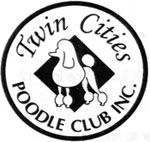 Picket Fence Poodle Rescue is also proud to be recognized by the
National Poodle Club of America: