-UPDATED DECEMBER 2023-

AT THIS TIME we do not have any Poodles available for adoption.  Please check back often as we do not know what will come available and when.  Thank you.
* * * * * * * * * * * * *
NOTE FROM GAIL:  The following Poodle is available for adoption from a gal I know who rescues dogs in South Dakota.  She is handling the Vet work, foster care and adoption of this Poodle as we both want to keep the Poodle's stress level low.  Here is more information from Jenny….
Meet sweet "LILLY" who comes to us from a breeder here in South Dakota that needed to reduce the number of dogs she has.  Lilly is an apricot, Miniature Poodle that is about 2 to 4 years old.  She currently weighs 18 pounds and measures 15" from the floor to her shoulder.
Lilly loves her people, and she gets so excited to see them when they come home.  If they were gone for 10 minutes or a few hours, she will be the happiest Poodle to see you!  And as you can see in this picture, this cute girl is also an expert cuddler!
Lilly co-exists and does fine with all sizes of dogs, but she doesn't seem too interested in playing with them.  Also, she can be a bit jealous and will warn other dogs with a little growl and bark that SHE would like the full attention of her person.  This has gotten better in the couple weeks she has been with us in foster care.  She is house-trained, OK with cats, good with children as she loves their attention… after she knows them.
PLEASE BE AWARE that when meeting new people or entering unfamiliar surroundings, Lilly can be very nervous and scared.  It may take her a few days to start becoming comfortable in her new home with new people.
Because of this, she is a high flight risk so a secure fenced-in yard will be required.  Lilly will also need to learn how to walk on a leash as she hasn't had much experience with that.  Once she knows how, she will then greatly enjoy going for walks with you!
This is a very sweet, loving girl who needs work, but is so ready to learn from her new forever family!  She has been Vet checked healthy, vaccinations are up to date, wormed, microchipped, and spayed.
Her adoption fee of $400.00 will help pay for just some her Veterinarian expenses.
Lilly is presently located in Huron, SD, but transportation can be arranged.  For more information and Lilly's "Adoption Application", please contact Jenny at:  dakotadogrescueservices@gmail.com 
---
---

OTHER POODLES AVAILABLE FOR ADOPTION CAN BE FOUND ON THESE WEB SITES:

We are a member of The Twin Cities Poodle Club
where you can find quality Poodles and Breeders: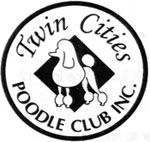 Picket Fence Poodle Rescue is also proud to be recognized by the
National Poodle Club of America: